About
Founded in 2016, the Legal Data Lab supports empirical legal scholarship at the University of Virginia School of Law.  It evolved as a natural extension of the Law Library's reference services and was one of the first labs of its kind established in any U.S. law school.  The Lab uses data science solutions to help patrons better understand and explain complex legal phenomena.
People
Li Zhang
Li Zhang joined the University of Virginia Law Library as Head of the Legal Data Lab in 2023 to support and promote empirical legal research. A computational social scientist by training, Li provides research support in various areas, including but not limited to data cleaning, modeling, natural language processing, social network analysis, cloud computing, web scraping, experimental design, and data visualization. His research interests include political communication, judicial behavior, and social psychology. Some of his past projects have been funded by the Andrew W. Mellon Foundation, the Feld Family Foundation, and the Rapoport Family Foundation.
Prior to joining UVA, Li was the Social Sciences and Data Librarian at Skidmore College. He was also affiliated with the Hariri Institute for Computing and Computational Science & Engineering at Boston University. He is currently completing his Ph.D. dissertation on social bot detection and regulation.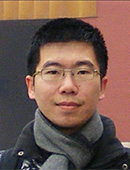 Sarah New
Sarah New joined the University of Virginia Law Library as Web Services Librarian in 2018. She holds a master's degree in Geographic Information Systems, and happily shares her GIS skills with the Legal Data Lab.